High Thrust Nozzle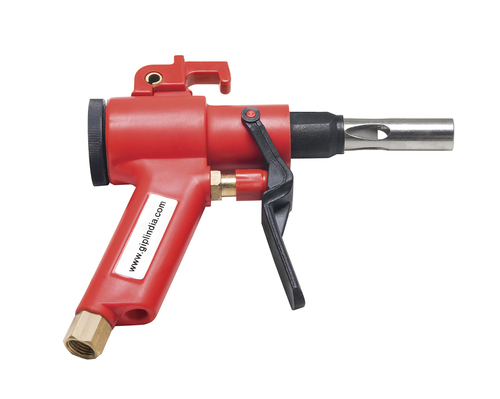 High Thrust Nozzle
Having complete knowledge of the domain, we are engaged in manufacturing and supplying an exceptional range of High Thrust Nozzle. It provides a high thrust, concentrated stream of high velocity airflow for blow off, cooling, drying and cleaning applications. The sound level is extremely low and air consumption is minimal. The compressed air is ejected through holes located in recessed grooves that cannot be blocked or dead ended. Under the supervision of experts, this High Thrust Nozzle is stringently checked on various parameters to ensure hassle free functioning at clients end.
Features:
Minimal air consumption
Negligible maintenance
Concentrated, high velocity airstream
High Thrust Nozzle
– HTB-4, stainless steel, air amplifying – Known for its application specific design, the HTB-4 serves as an easy to repair blow gun for air compression purpose. It is preferred for its long functional life.
It delivers air blow by applying high force
It adopts stainless steel made nozzle
It can deliver medium piercing blow
This blow gun works at minimal consumption of compressed air
It requires 14 CFM air for its operation
Thrust: 340 gms @300 mm
It generates 99 decibel noise
Contact Details
GENERAL IMSUBS PVT. LTD.
Mr. Kalpak Shah (Director)
Mobile : +917259702581